Testimonials
Let me reveal why I would describe my experience in the meditation machine as a pure delight and comfort. Once in there, your happiness rate rises for 25%! What's the secret medicine, you'd maybe ask. It's not about medicine at all. It's about the place. This place grants you the possibility to come back to Yourself, find yourself in your real home, where you are still embraced with a deep peace and feel content.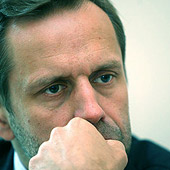 Pēteris Kļava,
paediatrist, emergency physician, anesthesiologist
The humanity keeps seeking ways and technologies, how to recognize and to explore deeper stratums of reality, deeper than those, which we see with a help of our "seeing mind". During the thinking process, one finds it hard to understand himself, as the sensory systems of analyzing, which our bodies possess, make us associate our personalities directly with our bodies. Immersing in this time machine, it is finally possible to rest from oneself. The deep relaxation, which everyone can experience in such an extraordinary environment, can take us spontaneously into the most unusual dimensions of meditation, which our mysterious Universe has drawn up for us.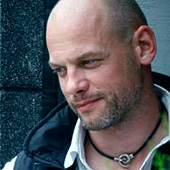 Valdis Melderis
Program director, radio Skonto
Being a man in his best years (40), I, already for some time, tend keeping to the idea and truth, that prevention is most often cheaper than a medical cure. So, during the recent years I have tried out pilates (2 seasons), yoga (1 training session), but, in spite of all my trying, I have not had enough patience to practice any complicated breathing or stretching exercises. That's why I have currently chosen a kind of compromise – water athletics. I love water procedures! Even more, flouting promises me to add an element of meditation. Meditation is another thing, which I usually comment with: yes, I know I'd need it, BUT.. But now – I can really enjoy it, in the weightless position, in silence, dark, and without any temperature stimulations… I guess, it is the closest state of meditation which I have reached so far.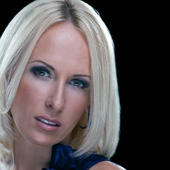 Marika Ģederte
Business administrator
"Lost in time" – that's how I'd call my first impressions of floating. Before the session, I had been playing tennis intensively for 2 hours; I have to say I had never experienced such a deep relaxation and such a good physical condition, as after flouting. It is a nearly unreal experience. Unbelievable – what else to say about a completely weightless feeling in water; 45 minutes by a deeply relaxing music let me feel relaxed for the next 24 hours. Although, the first flouting session did not let me to release all my emotional tenses, I do believe, that each next time would give more and more relaxation in this sense, too. I think this could also be helpful for those having some problems with metabolism, as the salt float lowers your appetite.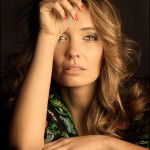 Anna Rozīte
TV broadcast manager
I would say: flouting is an energy "restart", a great way to get fresh strengths. It is also an exclusive opportunity – to be alone with oneself, in space where no mobile gadgets, no other people can disturb you. After flouting, I become so calm, I lose the tension to rush and catch something up; after flouting all my being says I have done something very good for myself, for my body and mind.
And, generally speaking, there is not much things, which would cause this state in our everyday life.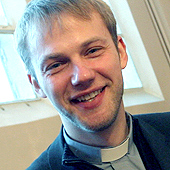 Ivars Jēkabsons
Priest
In fact, physically, it is a flying without feeling one's weight. It's a half-wake state relaxation, after which you march out in your daily routine with a fresh mind. It is an environment, which minimize the outer senses as much as possible. That's why psychologically it is maybe even more – a travel to one's inner world, human being himself, and movements of his soul. It is a meeting with one's thoughts, dreams, visions. That's why I'd rather warn those who are afraid to face oneself and his (or her) own problems… It is definitely a moment of enlightenment, approaching truth and revelations, coming from the "outer world". Spiritually, it resembles one kind of prayer, the one about which Jesus spoke, saying: "But when you pray, go into your room and shut the door and pray to your Father who is in secret. And your Father who sees in secret will reward you" (Matthew 6, 6)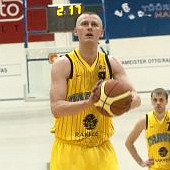 Ivars Timermanis
Basketball player
In the profession sport, a remarkable physical effort goes hand in hand with a high psychological and emotional stress, so I intensively look for solutions to renew my physical resources and also – to relax my mind. For some time already, I have discovered such a combination of relaxation methods: flouting. Even more, it helped me a lot after a heavy trauma, and stimulated my rehabilitation. During the sports' season, I always choose regular sessions – to renew my strengths and to keep in a perfect physical condition. Others look for a peace and harmony in meditation or special massages, but I have found my way – flouting! I encourage everyone to try this unreal "flying in water" experience and feeling!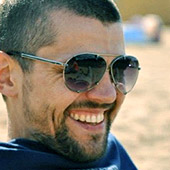 Kristaps Lapiņš,
specialist of the Web Advertising, astrologist
For more than 7 years already, my life is based on yoga principles; I start each day with a meditation, ajurvedic food and healthy lifestyle. Floating session was a great possibility to try the weightless position also apart from the meditation. It is one of those cases, when the meditative state can prolong also beyond the meditation itself. That is a unique experience for the con-sciousness, and in the depth of it, there is the fundamental idea, that we are all here, on the Earth, and that we simply cannot fall off of it. The experience reminds of a free fall, just that in a more, more peaceful state. That's absolutely new experience, and I find it hard to put it into words. Those, who want to learn more about it, need to experience it themselves!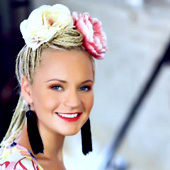 Inese Apse Apsīte,
creative Agent, MATKA
The feeling you get in a floating cabin, is unbelievable. It's nothing outer, not a spectacle, that's being staged outside you. All the show, so to say, is inside you. Suddenly you realize how full of the inner beauty you are! This feeling literary takes you away! Actually, this journey to oneself is very hard to describe – only those, who take it, can understand it.
This state resembles of turning all the senses (hearing, vision, touch, smell and taste) inwards, towards the inside of mind. It is possible, if turning them away from the outer objects of perception. It is like a deep inner experience. The world of psyche opens up, and during this process, the consciousness is filled with a joy of the very moment. A spontaneous meditation.